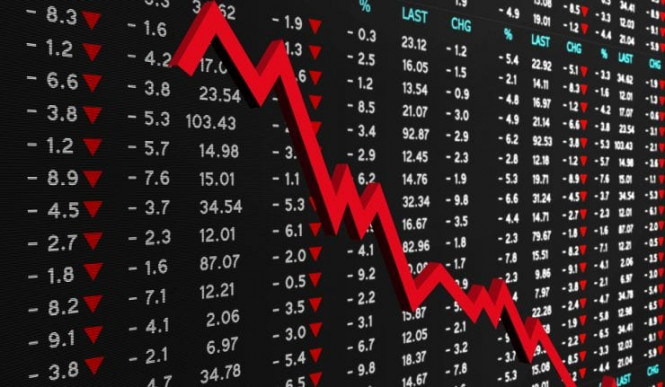 The coronavirus is quickly spreading around the world, raising worries among investors. The virus suppresses economic activity. Besides, the chances of stimulating the economy before the US elections are zero. Amid this situation, European stock indexes moved sharply lower.
Germany's DAX lost 2.4%, France's CAC 40 fell by 1.8%, and the UK's FTSE dropped by 2.2% as well.
Investors fear that a spike in coronavirus cases will force governments across Europe to stop their economic activities again.
Every day in Europe, around 100 thousand new people are infected with the coronavirus. In the UK, there are about 20 thousand new cases. France has declared a public health emergency. The number of hospitalizations is growing.
In some countries, such as Germany, France, Great Britain and others, restrictive measures have already been reintroduced. Bars, restaurants, and other public institutions have been closed to stop the infection spread. Also, the countries intend to close educational institutions for quarantine.
On Thursday, oil prices fell slightly. Futures for WTI crude fell by 0.6% to trade at $40.80 per barrel. Brent also lost 0.6% to settle at $43.06.
The American Petroleum Institute said that US crude oil inventories fell by 5.4 million in a week, nearly double of what analysts had expected.
Gold futures remained unchanged and traded at $1,907.50 per ounce, while EUR/USD fell by 0.1% to 1.1740.
Indexes of the Asia-Pacific region also show negative dynamics due to the plobal pandemic. Moreover, the increase in tensions between the United States and China adds to the negative market sentiment.
The Shanghai Composite lost 0.08% and the Shenzhen Component fell by 0.14%.
However, in China, the consumer price index rose by 1.7% in September. The producer price index fell by 2.1% on an annual basis, beating the forecast of 1.8% decline and 2% fall in August.
Japanese Nikkei 225 lost 0.69%, while South Korean KOSPI fell by 0.83%. The Hong Kong Hang Seng Index also lost 1.15%.
Experts believe that a sell-off may soon begin in the market because it is unlikely that new stimulus measures will be taken before the US presidential election. Negotiations on this issue ended in a stalemate. In other words, there is no point of expecting a quick recovery of the world's economy, as there is not a single factor to contribute to this.
The material has been provided by InstaForex Company — www.instaforex.com